2022.11.30
Regarding the Role of Aya Maruyama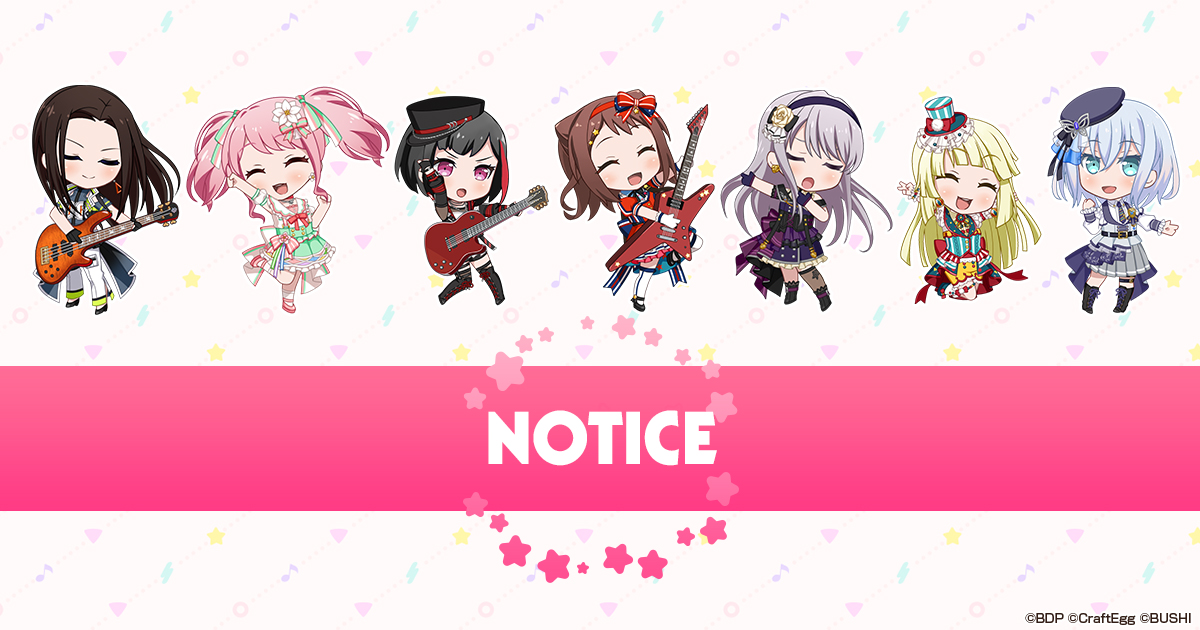 Thank you for playing BanG Dream! Girls Band Party!
We regret to inform that Ami Maeshima, V.A. of Aya Maruyama of Pastel*Palettes, will be stepping down from the role, according to Avex Management Inc.. This decision and announcement have been made with prudence and agreement within BanG Dream! Committee and BanG Dream! Girls Band Party! project.
The new casting for the role of Aya Maruyama for the BanG Dream! project will be conducted and will be announced as soon as all details are confirmed. As for how the in-game character voice of Aya Maruyama and the related songs will be handled in the future, we will also announce separately in a notice.
For the details regarding this announcement, please also see the official website of Ami Maeshima and BanG Dream!.
Ami Maeshima's Official Website (Japanese)
https://maeshima-ami.jp/contents/599856
BanG Dream! Official Website
https://en.bang-dream.com/news/20221129/post-37
Lastly, we'd like to express our deepest thanks, along with all project members, for her bringing such many moving moments via the character Aya Maruyama during these 6 years.
Activities of Aya Maruyama, Pastel*Palettes as well as the BanG Dream! Project will continue in the future. We hope you continue to support all Girls Band Party! members and the BanG Dream! Project, and enjoy playing BanG Dream! Girls Band Party!
[12/01 12:00 JST Update]
Regarding existing in-game voice lines & songs for Aya Maruyama, we have received many requests from fans to preserve these almost 6 years of content as they are, and have decided that they will not be replaced with the new cast.
We wish to continue to portray the growth of Aya Maruyama, as well as the other members of BanG Dream! Girls Band Party!, so we hope for everyone's continued support.
Thank you all for your constant support for the game.