2020.03.20
BANG DREAM! GIRLS BAND PARTY! X PINKFONG BABY SHARK COLLABORATION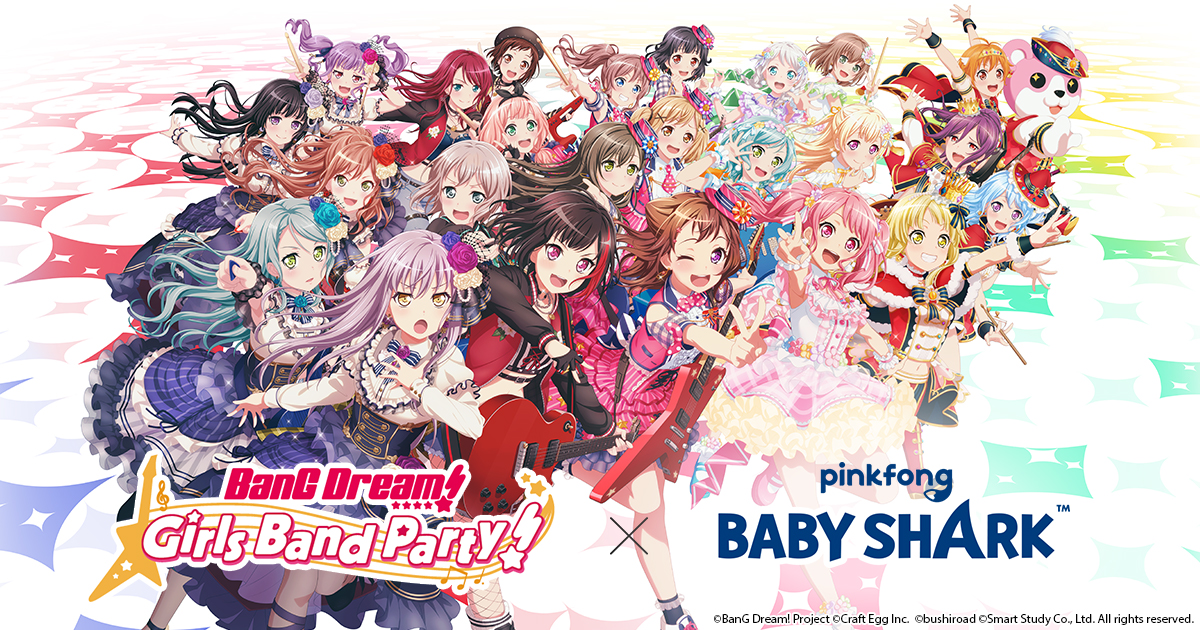 Singapore (Mar 20, 2020) - "BanG Dream! Girls Band Party!" (English Version), the anime music rhythm game on mobile, has announced their collaboration with the global sensation "Baby Shark", from Pinkfong.
The collaboration will start from March 27, 2020, and consist of the release of the catchy song – "Baby Shark".
Baby Shark Song Release
"Baby Shark" will be released as a playable original song written and composed by Pinkfong, and arranged by Pinkfong & KizCastle. The song will be available for a limited time from March 27, 2020, 08:00 UTC to April 17, 2020, 07:59 UTC.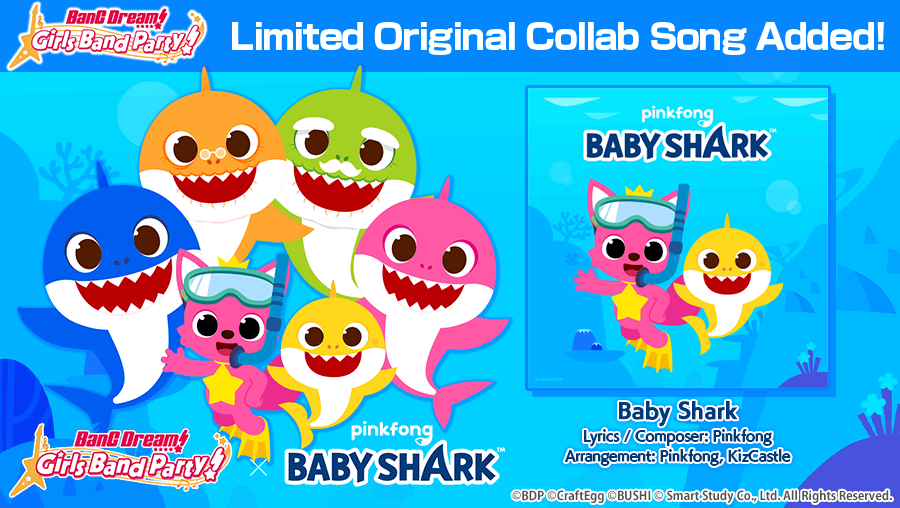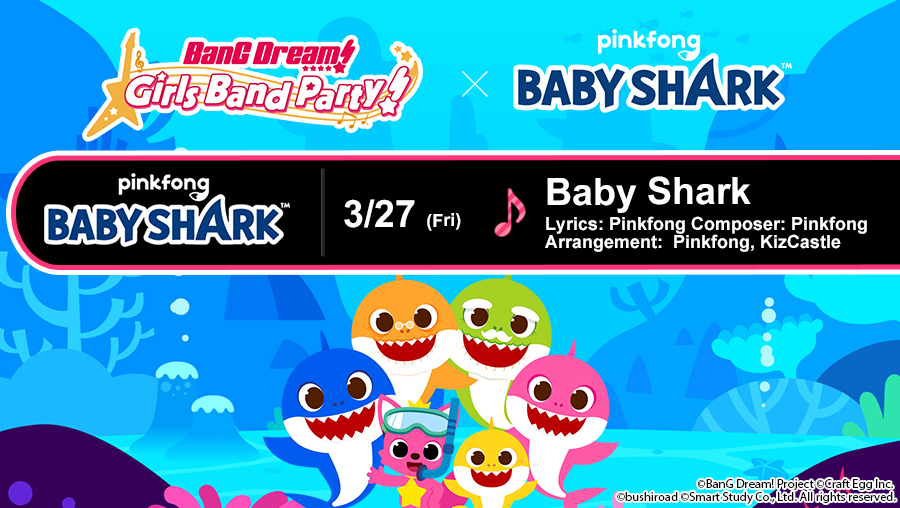 About "BanG Dream!"
"BanG Dream!" is a next generation girls band project that links animated characters with real life performances. It is a media franchise that includes Anime, Games and Live performances. Voice actors from "Poppin'Party" & "Roselia" formed real bands, and are actively performing live. A third live band, "RAISE A SUILEN", was formed and are in the midst of activities as well.
Currently, the 3rd Season of the hit animation "BanG Dream!" is now airing on HIDIVE!
HIDIVE - https://www.hidive.com/tv/bang-dream-3rd-season
About "BanG Dream! Girls Band Party!"
The mobile game from the same "BanG Dream!" universe, "BanG Dream! Girls Band Party!" is an exciting music rhythm game co-developed by Craft Egg Inc. and Bushiroad Inc.. The game has been awarded "App Store Best of 2017 – Top Game Ranking", and "Google Play Best of 2017 – Grand Prize for Players' Choice Game and Attractive Game" in Japan.
*The English version is available worldwide except for Japan, China, South Korea, Hong Kong, Taiwan, and Macau.
DOWNLOAD THE GAME HERE VIA iOS / Android: https://app.adjust.com/m7t6ts
For more information: Official Website: https://bang-dream-gbp-en.bushiroad.com/
Official Facebook: https://www.facebook.com/BanGDreamGBP/
Official Twitter: https://twitter.com/bangdreamgbp_en (@bangdreamgbp_en)
Official Instagram: https://instagram.com/bangdreamgbp_en (@bangdreamgbp_en)
Promotional Video: https://youtu.be/mrIhTHC_Gac
Official YouTube Channel: https://www.youtube.com/channel/UCPityslSknKsWUq9iy8p9fw
--
Bushiroad International Pte. Ltd. was established in Singapore on November 12, 2011 in order to expand and handle the international market for Bushiroad card games. Since then, Bushiroad International is also involved in the localization of mobile games such as BanG Dream! Girls Band Party! and Tap Hina Logic.
About Pinkfong
Pinkfong is a global entertainment brand that creates award-winning kids' content for families around the world. Pinkfong has over 4,000 songs and stories within its vast library of children's content, accessible across digital platforms including the App Store, Google Play, YouTube.
For more information, please visit the Pinkfong website, subscribe to its YouTube channel, or follow the company on Facebook and Instagram.
About "Baby Shark"
Pinkfong's flagship video series, 'Baby Shark' has been the most viral kids' content on digital. Taking a fresh twist on the traditional singalong chant by adding upbeat rhythms and fresh melody, 'Baby Shark' was created in November 2015 and first uploaded on Pinkfong's YouTube channel.
Adding fun dance moves to the original video, 'Baby Shark Dance' was uploaded on YouTube in June 2016 and took the world by storm, amassing 4.6B YouTube views and became the 2nd most watched YouTube video to date. (Mar. 2020) 'Baby Shark' spurred the worldwide hashtag challenge '#BabySharkChallenge', accumulating over 700K covers of the video, including "The Ellen DeGeneres Show", "The Late Late Show with James Corden", Cardi B, Chance the Rapper and The X Factor UK Final. The viral earworm has also swept music charts across the world, debuting at #32 on the Billboard Hot 100 and climbing up to #6 on the UK Official Singles Chart. (Jan. 2019)